Proudly serving
MO, KS, IA, NE, & IL
Eaton-Powering Business Worldwide
Eaton is global leader in electrification, circuit protection, and automation products. Eaton's mission as a power management company is to improve the quality of life and the environment through the products, technologies and services they offer.
Eaton Variable Frequency Drives
Eaton offers a best-in-class portfolio of variable frequency drives (VFDs) that are designed to meet your performance requirements while saving space, improving safety and working smarter. Eaton VFDs will save you money by improving the efficiency and productivity of your systems.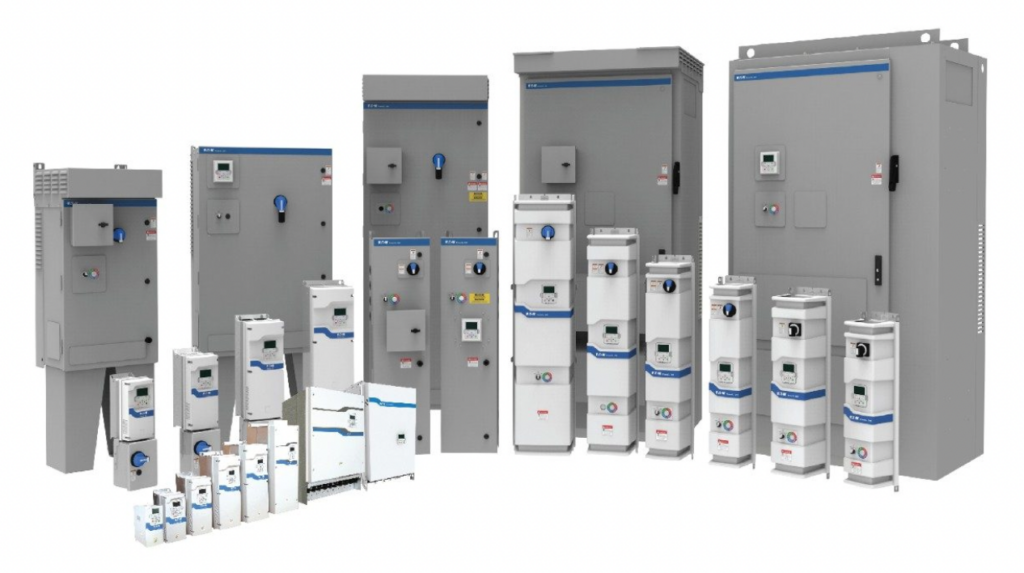 Featured Drive Families
DM1 Launch Event
PowerXL DM1 LIVE Launch Event presented with Microsoft HoloLens. Enjoy the immersive experience and Ask the Experts all the questions that you may have about Eaton's newest innovation.
Featured IEC Control and Automation
XT Combination Motor Starters
XT Manual Motor Protectors
XT IEC Contactors
XT IEC Contactors
The XT IEC contactors are powerful, efficient and versatile, and can be combined with our full range of electronic overload relays and bimetal relays. These devices stand out for their reduced power consumption, which makes them more energy efficient and also reduces the size of the power supply units. XT IEC contactors are suitable for global use and cover the entire output range, from mini contactor relays (up to 7 A) all the way to vacuum contactors (up to 3180 A).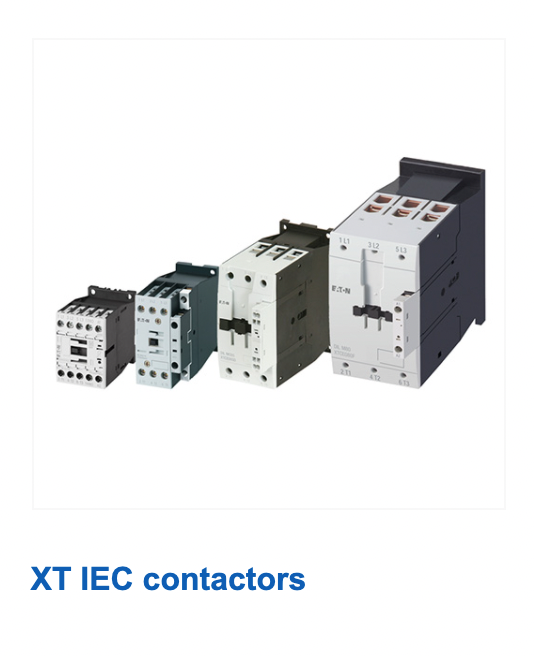 XT Combination Motor Starters
XT Combination Motor Starters
The fuseless motor starters have been delivering reliable personal and operational safety in machines and systems for decades. The motor-starter combinations consist of a motor-protective circuit breaker and a contactor, which can be quickly connected and mounted thanks to the versatile and safe plug-in technology. The compact, fuseless motor starters also make it possible to engineer and build control panels that can be used worldwide. This also significantly simplifies their export to North America.
XT Manual Motor Protectors
XT Manual Motor Protectors
Manual motor control offers ideal space-saving and cost-saving solutions as manual starters, manual motor disconnects, group motor installations, and self-protected manual combination starters. Manual motor starters and protectors provide protection against low-level faults that fuses or circuit breakers on the branch circuit would ignore. In group motor installations more than one motor circuit is protected by a single branch circuit protective device (BCPD).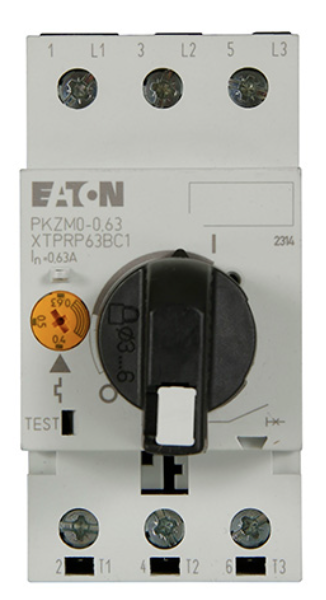 XT Overload Relays
XT Overload Relays
Eaton's XT line brings IEC power control to a whole new level. The XT IEC series includes non-reversing and reversing contactors and starters as well as overload relays and accessories. Enclosed control options include metallic and non-metallic enclosures with circuit breakers, and North American or European fuses. Save space and engineering design time with XT IEC series overload relays.
Easy E4 nano PLC
Easy E4 nano PLC
The easyE4 PLC has 12 I/O and can be expanded to a network of up to 188 I/O points, providing the ideal solution for lighting, energy management, industrial control, irrigation, pump control, HVAC and home automation. In whatever your application, the compact and flexible easyE4 enables control systems that are efficient and effortless to implement. After the easyE4 is installed, changes are easily accomplished through front panel programming, which eliminates the need to change wiring and minimizes downtime. Gain effortless control with the easyE4.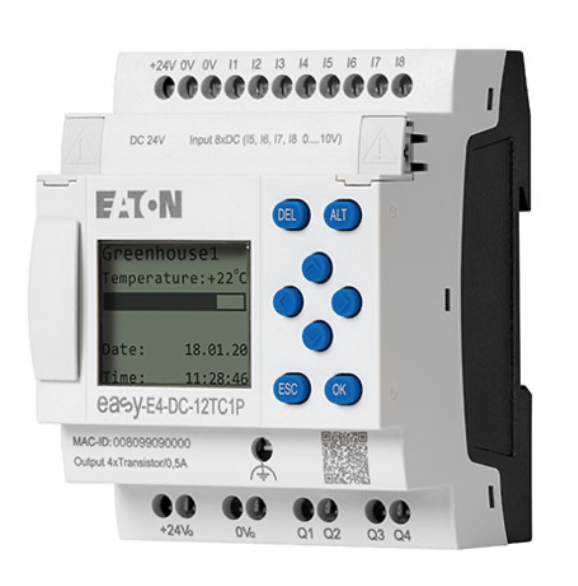 XT Safety Contactors
XT Safety Contactors
Providing enhanced levels of safety, XTSE contactors integrate to applications to not only achieve the highest safety circuits but provide additional levels of protection that reinforce end-user safety. XTSE contactors stand out, and so do our customers who use them.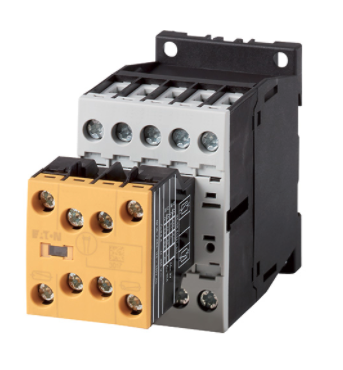 M22 and M30 Pushbuttons
M22 and M30 Pushbuttons
Eaton's M22 and M30 pushbutton portfolio features a wide range of modular and ergonomically designed pilot devices. This includes traditional as well as flat contact blocks and indicating lights that save panel space and improve machine design.
The line also offers the industry's only multi-color indicating light with flat design, which offers seven colors with a single sku.
Our portfolio includes illuminated and nonilluminated pushbuttons, indicator lights, selector switches, key-operated actuators, joysticks, emergency stops, potentiometers, foot and palm switches, control stations and accessories.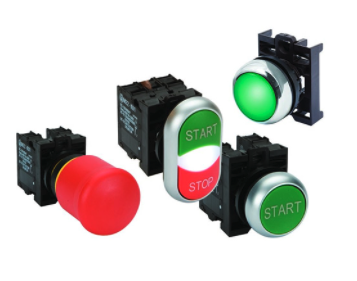 Eaton Machinery OEM Mission Statement
To be the preferred power management, circuit protections and controls solution provider for our region. Create value with our products through our technical expertise and application knowledge to advance our partners profitable growth in both traditional and emerging markets.
Featured Power Distribution and Control Assemblies
Pow-R-Line Xpert 4X Panelboards
Pow-R-Line Xpert Switchboard
Freedom motor control centres (MCC)
Heavy duty safety switches
Power Defense molded case circuit breaker
Pow-R-Line Xpert 4X Panelboards
Pow-R-Line Xpert 4X Panelboards
Eaton's Pow-R-Line Xpert 4X (PRL4X) distribution panelboards provide a compact and flexible solution for electric power distribution with integrated breakers, metering and surge protection. Additionally, they're designed to meet UL 67 and NEMA PB1 standards for use in data centers, industrial, commercial and healthcare facilities for up to 600 Vac, 600 Vdc and 1200 A applications.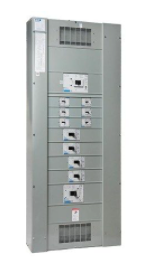 Pow-R-Line Xpert Switchboard
Pow-R-Line Xpert Switchboard
Eaton's Pow-R-Line Xpert (PRLX) general purpose distribution switchboards combine integrated Power Defense insulated case and molded case circuit breakers, metering, surge protection and other various Eaton products for dependable and intelligent electrical distribution and protection. Available in maximum 6000 A main bus rating and maximum 600 Vac/Vdc, the switchboards provide enhanced accuracy and reliability for optimum system coordination with Eaton's Power Defense circuit breaker family.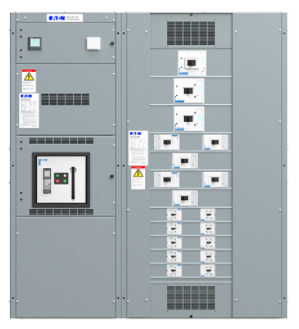 Freedom motor control centres (MCC)
Freedom motor control centres (MCC)
Eaton's Freedom 2100 motor control centres (MCCs) are intelligent MCCs that offer the safest and most effective method for grouping motor control and associated control as well as industrial communications and distribution equipment. The Freedom 2100 MCCs are designed for safety, reliability and quality offering a safe, intelligent and versatile MCC.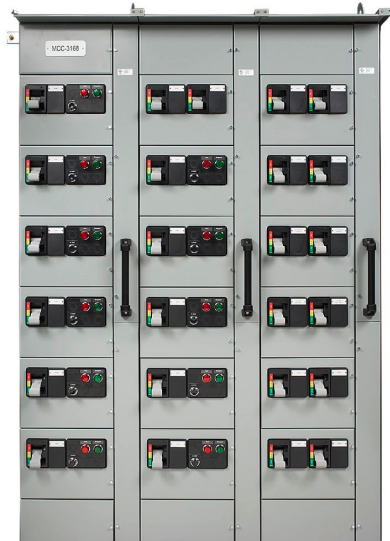 Heavy duty safety switches
Heavy duty safety switches
Eaton's heavy-duty safety switches provide a highly visible means of disconnect to help improve personnel safety and equipment protection. Additionally, they're ideal for applications where reliable performance, safety, and service continuity are critical.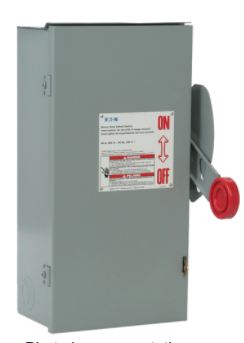 Power Defense molded case circuit breaker
Power Defense molded case circuit breaker
The Power Defense molded case circuit breaker portfolio is globally rated in a small footprint for easy adaptability no matter the application or project requirement. A circuit breaker with communicating electronic trip units and the ability to generate the data to help you optimize your facilities' performance, and to help keep your employees, customers and end-users safe by reducing the risk of arcflash events.